Making friends in college, for shy folks, is the toughest job. College life is beautiful, and that is a fact. A major part of the college experience is the people you meet, the exposure you get and the activities you engage in. Schooling may have taught us the basics of acceptable behaviour and boosted our confidence, but it's actually college that will prepare us for the reality that awaits us on the other side of the door. Here are 5 pointers that would help you make friends in college and allow you to enjoy college life Rang De Basant' style!
1. Fear is Temporary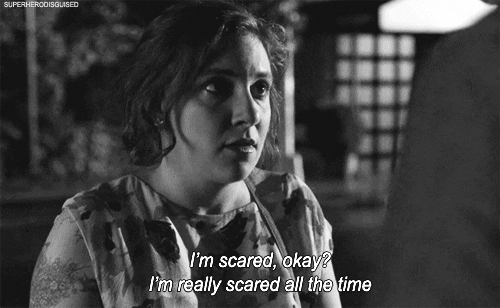 Source: https://media.giphy.com
Fear is the root cause of most problems, and not being able to socialise is one such problem. The worst that could happen is that your new acquaintance wouldn't accept your extended hand of friendship, but then again, she/he might. Take a leap of faith, college life is meant for trying new things and making mistakes!
2. Open Up
Source: http://25.media.tumblr.com
Open your mind before you open your mouth. Don't be judgmental, and always remember to be kind. The first impression truly is the last impression. If you're mean on your first meeting, you will always remain a jerk to her/him regardless of how kindly you treat them after; they'd always doubt your integrity and call you fake. College kids may be naive, but they aren't stupid.
3. Initiate Contact, Soldier!
Source: http://cdn2.gurl.com
It's very rare to find a real connection with someone the first time you meet them, especially in college where everyone is just as lost and clueless as you. The first step in the guide to making friends and creating strong bonds that will last is gaining acquaintances. An acquaintance will automatically turn into a friend or a foe depending on the rapport you two build. Go try, socialise!
4. Be You
Source: http://38.media.tumblr.com
The phrase Be YOU truly is a double entendre which stands for Be U(nique). Be unique, be yourself because everyone else is taken. It's difficult to find real people, especially in college where nobody is capable of discerning the deceitful from the real deal. Always, always be honest. You can't be pretty, rich or powerful and have it all; if you're not honest, you're nobody.
5. Be in Touch
Source: http://cdn1.theodysseyonline.com
Make spontaneous plans with your new friends, surprise them on their birthdays or simply get a little buzzed and dance to your heart's content! Go out there and explore your college campus together, find new eating joints and find a permanent spot for yourself – call it your chilling spot!
It may seem like a task, making friends in college for an introvert is no joke; but, my recent favourite song goes something like "Someday you'll leave this world behind, so live a life you will remember. My father told me when I was just a child; these are the nights that never die". So, my only word of advice to you is to shed all your inhibitions and make the memories that'll last a lifetime!
(Written by Aayaan Upadhyaya)