Nothing sounds quite as exciting as the prospect of travelling to a new land to study, but before taking such a big step, students should consider what they hope to get out of the degree. Not all foreign degrees are equally valuable; you don't want to spend so much of your time, money and life on a degree that holds no greater value than a domestic one. We explain the pros and cons of a foreign degree:
Looks Amazing on the Resume
GIF Source: Tumblr
There is absolutely no denying the fact that a degree from a fancy foreign university is always a plus with employers.  It adds weight to your resume in multiple ways and shows you as a candidate of calibre.
Ask Yourself…
GIF Source
…how much employers value it. This depends a lot on the field of education and the prestige of the university you're attending. The Ivy Leagues and Oxbridge are a safe bet but you should avoid the obscure universities because a degree from there really doesn't mean anything to anyone. Plus, certain universities are very well known for their leading role in certain fields; for instance, English Literature students can go to University of Edinburgh and St. Andrews in Scotland, Georgia Tech is known for its stellar engineers and so on.
International Standard Education
GIF Source
You get spectacular campus facilities, amazing research resources, flexible schedule, wide range of courses and brilliant faculty…the list of perks at a foreign university is endless. Of course, a lot of it depends on the kind of Uni you go to but most of the mid to top level ones guarantee a very sophisticated and inspiring educational experience.
Ask Yourself…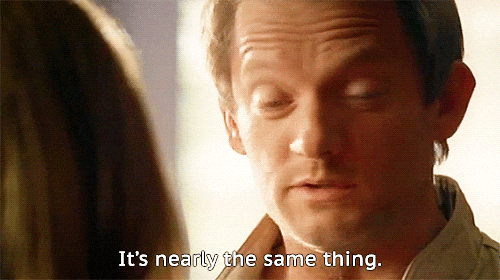 GIF Source: Giphy
…can you get an education of a similar level in India? IIT institutes in India are world-class and there are plenty of great medical schools as well.  On the other hand, in fields like automobile designing and bio-technology, the scope in India is extremely limited and you're better off heading abroad.
Exposure to Different Cultures and the Chance to Travel
GIF Source
When you study abroad, you have to leave everything familiar behind and immerse yourself in a completely different society, culture and geography. If you have the travel bug, this is the best way to satisfy it! Actually living in a new culture, having to eat their food every day, navigating different social norms, can be exciting as well as frightening. You also get the chance to travel at a much reduced cost – for example, while studying in the UK, you can travel to Europe without having to shell out on expensive air travel. Plus, you can make friends with people from different countries and crash at their house.
Ask Yourself…
GIF Source
…is the travel/culture aspect really something that excites you? Due to the glamorization of such things in popular culture, many people have an idea that their life will be amazing if they just leave India. With aspects like language barrier, racial discrimination and wildly different cultural norms, the reality of living abroad is more challenging than you might have imagined.
Personal Growth and Independence
GIF Source
Nothing makes you grow up quickly as much as living alone in a strange city with no friends and family around. From cooking for yourself to paying bills and cleaning kitchens, you'll learn it all. And then there are all the unique experiences – adjusting with crazy room-mates, making new friends, managing the new found freedom with academic pressures – which will stay with you for life.
Ask Yourself…
GIF Source
…will you be able to adjust to life in India when you get back? Chances of getting a job abroad are quite low right now, so you might just be back in India despite your plans. It's not just the loss of the little luxuries of life in an advanced, developed country; you will most likely have to deal afresh with parental rules, regressive societal norms and the lack of public infrastructure.
Going abroad for education is no longer the distant dream meant for a few rich kids. However, that does not mean that you just blindly jump on the glamorous foreign education bandwagon. India has a lot of good universities too, which offer a great educational option. Getting jobs abroad is getting harder than ever, so you should make sure the degree you opt for gives you some tangible, attractive benefits that you'd never get from an Indian education.